With the global focus on sustainability and combating climate change, it is imperative that we explore innovative solutions in all sectors, including agriculture. Livestock farming, which plays a significant role in the global food production system, has been under scrutiny due to its environmental impact, including deforestation, greenhouse gas emissions, and water pollution. However, there are exciting developments in the field of livestock farming that hold the promise of revolutionizing the industry and ensuring a greener and more sustainable future.
The Case for Sustainability in Livestock Farming
Livestock farming has long been criticized for its contribution to deforestation. Clearing land for animal feed production and grazing disrupts ecosystems, reduces biodiversity, and increases carbon dioxide levels in the atmosphere. Furthermore, the methane gas emitted by ruminant animals, such as cows, is a potent greenhouse gas that significantly contributes to global warming.
However, instead of demonizing the livestock industry, we should collectively work toward finding sustainable solutions that minimize its impact on the environment. Livestock farming, when done right, can provide vital nutrients, support rural economies, and enhance food security. By focusing on sustainable practices and incorporating innovative technologies, we can revolutionize the industry and pave the way for a greener future.
Technological Advancements in Livestock Farming
1. Smart Sensors and IoT: Integrating smart sensors into livestock farming can help farmers monitor animal health, optimize feed consumption, and reduce waste. These sensors can detect early signs of illness, track activity levels, and provide real-time data on feeding patterns, allowing farmers to make informed decisions and minimize environmental impacts.
2. Artificial Intelligence (AI): AI can play a crucial role in optimizing livestock health and productivity. By analyzing vast amounts of data, AI algorithms can identify patterns and provide insights into feeding regimes, breeding programs, and disease prevention. This can minimize the use of antibiotics, improve animal welfare, and reduce resource consumption.
3. Vertical Farming: With limited land resources, vertical farming offers a solution to the space constraints faced by traditional livestock farming. Vertical farms utilize stacked layers to grow crops indoors, allowing for year-round production. By integrating livestock into vertical farming systems, we can maximize land use efficiency, reduce water and feed requirements, and minimize the environmental footprint of the livestock industry.
Sustainable Feed Alternatives
1. Insect-based Feeds: Insects, such as black soldier flies and mealworms, have proven to be a sustainable and nutritious feed alternative for livestock. They require significantly less land and water compared to traditional feed crops like soy and corn. Insect-based feeds also have a smaller carbon footprint, as insects naturally convert organic waste into protein-rich biomass.
2. Microalgae: Microalgae, such as spirulina and chlorella, are another sustainable feed option. These microscopic organisms can be cultivated in closed-loop systems, utilizing wastewater and carbon dioxide as inputs. Rich in protein and essential nutrients, microalgae can provide a nutritious feed source for livestock while minimizing the ecological impact.
3. Utilizing Food Waste: Instead of disposing of food waste in landfills, it can be repurposed as animal feed. By diverting food waste from the waste stream, we reduce methane emissions and minimize the need for traditional feed sources. Moreover, this approach can help tackle the issue of food loss and waste.
Policy and Consumer Shifts
1. Regenerative Agriculture: Governments can incentivize farmers to adopt regenerative agricultural practices, which focus on restoring soil health, enhancing biodiversity, and maximizing ecosystem services. This approach not only sequesters carbon but also increases resilience to climate change and improves overall sustainability in livestock production.
2. Sustainable Certification: Consumers play a vital role in driving change. By supporting sustainable certifications, such as organic, grass-fed, or pasture-raised, consumers can send a clear message to the industry about their preferences. This creates a market demand for sustainable products and encourages producers to adopt more sustainable practices.
3. Reduced Meat Consumption: While not advocating for a complete elimination of meat, reducing meat consumption can have a significant impact on sustainability. Encouraging plant-based diets or adopting a flexitarian approach can lower the demand for livestock production, thus reducing environmental pressures associated with intensive farming.
Summary
The livestock industry is undergoing a transformative phase, driven by the urgent need for sustainability. Through the adoption of technologies like smart sensors and AI, livestock farming can become more efficient, reducing waste and minimizing environmental impacts. Sustainable feed alternatives, such as insect-based feeds and microalgae, offer nutrient-dense alternatives while reducing the demand for traditional feed crops. Policy changes and consumer preferences play a critical role in shaping a greener future for the industry. By embracing these innovations and promoting sustainable practices, we can revolutionize livestock farming and create a more sustainable and greener future for all.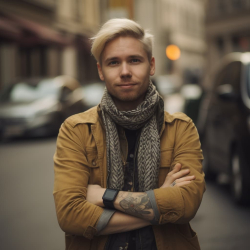 Últimas entradas de Samuel Bennett
(ver todo)