In today's world, where climate change and environmental degradation have become imminent threats, it is crucial for us to take responsibility for our actions and make sustainable choices in our daily lives. By reducing waste, we can make a significant impact on the environment and contribute to saving the planet.
Step 1: Embrace the 3 R's
The 3 R's, namely Reduce, Reuse, and Recycle, are the foundation of waste reduction. Start by evaluating your consumption patterns and identifying areas where you can cut back or eliminate altogether. Opt for products with minimal packaging, and always look for ways to reuse items instead of disposing of them. Embrace recycling as a habit and ensure that you separate recyclable materials from general waste.
Step 2: Say No to Single-Use Plastics
Single-use plastics, such as straws, bags, and water bottles, are major contributors to pollution in our oceans and landfills. By simply refusing these items, we can significantly reduce waste. Instead, invest in reusable alternatives like metal or glass water bottles, fabric shopping bags, and stainless steel straws. These small changes can have a big impact on reducing plastic waste in our environment.
Step 3: Composting for a Greener Garden
Composting is an effective way to reduce food waste and provide rich nutrients for your garden or plants. By composting fruit and vegetable scraps, coffee grounds, and yard waste, you can create nutrient-rich soil that helps plants flourish. Not only does composting reduce waste, but it also minimizes the need for chemical fertilizers that can harm the environment.
Step 4: Choose Sustainable Transportation
Our transportation choices have a direct impact on the environment. Whenever possible, opt for eco-friendly transportation methods like walking, biking, or using public transportation. If you need a vehicle, consider electric or hybrid options that have a smaller carbon footprint. By reducing our reliance on fossil fuels, we can contribute to combating climate change.
Step 5: Conserve Energy
Energy conservation plays a crucial role in reducing waste and minimizing our carbon footprint. Simple steps like turning off lights when not in use, unplugging electronic devices, and using energy-efficient appliances can make a significant difference. Additionally, consider installing solar panels to generate clean and renewable energy for your home.
Step 6: Mindful Shopping
Consumerism often leads to excessive waste generation. Before making any purchase, ask yourself if you truly need the item. Consider buying used or second-hand goods, as they not only save money but also extend the lifespan of products. When shopping for groceries, purchase locally sourced and organic products to support sustainable agriculture.
Step 7: Go Paperless
In the digital age, we have the option to reduce our paper consumption significantly. Opt for electronic bills and statements, read books and magazines digitally instead of buying print copies, and use apps or online tools for note-taking and organization. By going paperless, we save trees and reduce waste production.
Step 8: Educate Others
Spreading awareness and educating others about the importance of waste reduction is vital in creating a sustainable future. Organize community workshops, share informative articles on social media, or become a waste reduction advocate. By inspiring and educating others, you can multiply the positive impact and encourage collective action.
Step 9: Make Eco-Friendly Choices
From household cleaning products to personal care items, there are numerous eco-friendly alternatives available in the market. Opt for biodegradable, non-toxic, and plant-based products to reduce pollution and minimize harm to our ecosystems. By choosing eco-friendly options, we support companies that prioritize sustainability in their practices.
Step 10: Embrace Minimalism
Living a minimalist lifestyle helps us focus on what truly matters while reducing waste and clutter. Declutter your living space, donate items that no longer serve you, and resist the urge to accumulate unnecessary possessions. Embracing minimalism not only contributes to waste reduction but also promotes a more balanced and mindful life.
Summary:
Revolutionizing your lifestyle to reduce waste and save the planet is not as daunting as it may seem. By following these 10 easy steps, you can make a significant impact on the environment. Embrace the 3 R's, say no to single-use plastics, compost for a greener garden, choose sustainable transportation, conserve energy, practice mindful shopping, go paperless, educate others, make eco-friendly choices, and embrace minimalism. Start today and be a part of the revolution towards a sustainable future. Together, we can create a greener and healthier planet for generations to come.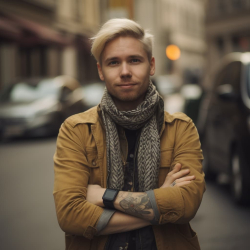 Últimas entradas de Samuel Bennett
(ver todo)