Food security is a major global issue, affecting millions of people worldwide. According to the Food and Agriculture Organization (FAO), there are currently 811 million people who suffer from chronic hunger and 2 billion people who do not have regular access to safe, nutritious, and sufficient food. This number is expected to continue to rise due to various factors, including climate change, population growth, and conflict.
Food insecurity not only affects individuals' physical health but also has a significant impact on their social, economic, and political stability. That is why government bodies, non-governmental organizations (NGOs), and individuals need to work together to ensure we have enough food to feed the growing global population.
The Causes of Food Insecurity
One of the primary reasons behind global food insecurity is climate change. The patterns of rainfall and temperature have been affected by greenhouse gas emissions, leading to unpredictable and extreme weather conditions, which have affected crop yields and livestock productivity.
The global population is continuously growing and is expected to reach over 9 billion people by 2050. This increase in the number of people will put a tremendous strain on agriculture and food production as food demand will outpace the food supply. To feed the expected world population 2050, food production must increase by 70%.
Overexploitation of natural resources like land and water has contributed to the degradation of environments, leading to poor crop yields. Land erosion, deforestation, and pollution of water bodies have caused permanent damage that will take years to recover, hampering food production further. Other factors such as conflicts and diseases have also impacted agriculture and food production sectors, leading to increased food insecurity around the world.
The Consequences of Food Insecurity
The consequences of food insecurity go beyond just hunger and malnutrition. They affect the social and economic stability of nations. When there is a lack of food, people cannot work efficiently, leading to lower economic productivity. Children also affected by malnutrition and hunger fail to thrive in school. They have increased school absenteeism, lower academic performance, and reduced cognitive development. Furthermore, communities that are food insecure suffer from poorer physical and mental health than their food-secure counterparts. In extreme cases, food insecurity can lead to political instability and increase regional conflicts.
Solutions to Food Insecurity
Reducing food insecurity is a multifaceted issue, and it requires multiple approaches to solve the problem.
Investing in agriculture: Governments should invest more in agriculture by providing adequate infrastructure, inputs, and workforce training. This will increase food production, boost food security and help contributors to a better economy.
Sustainable food production: Sustainable agricultural practices must be adopted to preserve the environment, soil health, and maintain ecosystems. Farmers should adapt advanced technologies like precision agriculture to make farming smarter as well.
Strengthening family farmers: Supporting small-scale farmers is vital as they provide a significant contribution to global food production. Increasing their access to interventions such as finance, technology, and infrastructure will ensure they are adequately positioned to produce sufficient food, leading to better food security.
Reduce food waste: Around a third of food ready for human consumption globally never reaches the table, leading to significant economic losses. Governments and families can reduce food waste by adopting storage practices and standardizing the food industry's portion sizes.
Investing in Climate Change Mitigation: Climate change is one of the main causes of food insecurity, and reducing the effects of climate change will mitigate food insecurity. The global community can achieve this by investing in renewable energy, investing in research to reduce greenhouse gas emissions, and adopting environmentally friendly practices.
Conclusion
Food insecurity is one of the significant and persistent global issues; it affects our health and societal economic stability. To combat food insecurity, governments, NGOs, and the global community must take urgent measures such as investing in agricultural practices, reducing food waste, and mitigating climate change effects. Reducing food insecurity requires action that is both collaborative and comprehensive. If we commit to tackling this problem together, we can bring hope to people who need it most and lay the groundwork for a more sustainable future.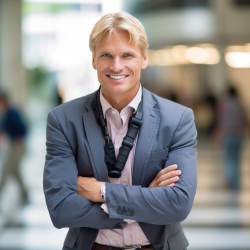 Últimas entradas de Michael Thompson
(ver todo)